you are here:

Home

Restaurant
The island is famous its plentiful sea catch fish, crabs, squids, oysters, prawns and lobsters, all fresh from the Andaman Sea. However they are cooked grilled, fried, sauteed, baked, roasted or steamed in whatever style (Thai, Chinese, or Westem), the dishes you order will come out great tasting and aromatic. Seafood restaurants are everywhere in Phuket Town, Chalong Bay, Patong, Rawai, Kata, etc., as much as they are in big tourist hotels. Though seafood restaurants in general charge reasonable prices, some classy ones at major beaches serve seafood dishes with high international standard cooking, services and prices.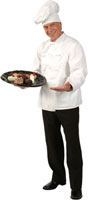 Visitors to Phuket should not miss the opportunity to have a taste of Phuket's many kinds of famous seafood which are always fresh and palatable. Prices are also very reasonable. Various seafood dishes are available in town and along famous beaches such as Patong, Kata, Karon, Rawai and Chalong Bay. But if you want to try the local food, mi sapam, misua (kinds of Chinese noodles), Khanom chin (Thai rice noodles with curry soup and vegetables), ho mok(steamed curried fish), kaeng luang and namphrik kung siap are recommendable.

Phuket has a number of foods different in character and flavour from those of other areas in Thailand. The international character of the island, however, with so many different restaurants catering to a multitude of tastes, makes it difficult for non-Thais to identify Phuket cuisine. Below is a list of dishes and shops where they can be sampled.

Mee Hokkian yellow egg noddles stir-fried with leafy green vegetables in soy sauce, usually with pork or chicken. The best known shops are:
- Mee Ton Poh near the clock tower traffic circle on Phuket Rd. in Phuket Town.
- Mee Sapam on Thep Krasatri Rd. in the village of Sapam.
- Mee Ao Geh on Phunphol Rd. in Phuket Town.

Yellow noodles are also cooked in both 'dry' and 'wet' versions, and as a prawn soup. For these try:

- Somjit near the clocktower traffic circle on Phuket Rd.
- Jirayuwat near the Pearl Cinema on Phang-nga Rd. in Phuket Town.
Mee Huhn Pah Chahng Dry fried noodles eaten with pork bone soup, For this try (all in Phuket Town):

Mee Sua Breakfast noodles served with the boiled rice dishes Khao Tohm or Johk. This can be ordered at various shops around town, but the best know in Phuket Town



Kanohm Jin Phuket

Noodles often compared to spaghetti usually served with a spicy curry sauce, the most common made from fish. It is usually eaten as a breakfast food and is, if you can stand its fiery character, delicious. It comes with an array of fresh vegetables and boiled eggs that are mixed with the dish by diners at their table. It is often found with the fried pastry called Pah Tong Go and the curried fish mousse called Hor Mohk, both of which are very tasty. Some of the curries are not spicy, so try a shop that has many curries to choose from if you are sensitive to spicy cuisine. There are many shops to choose from everywhere in Phuket but the most famous are in Phuket Town :
- Kwan Kanohm Jin on Tungka Rd.
- Pah Mai on Krabi Rd.
- Pah Ri on Pahtipaht Rd.
Lo Bah
Fried sausages served with fried tofu and spicy sweet and sour sauce. For this try (in Phuket Town);
- on the way to Sapan Hin
- on Poonphol Rd.
Oh Tao
Oysters fried with flour, eggs, and taro root. The best known places in Phuket Town are :
- near the Tessaban Ban Bang Niao school

Nam Prik Goong Sohd
Spicy shirmp paste with fresh shrimp, chili, and lime. Eaten with rice or Kanohm Jin. Nam Prik comes in various forms; it is generally regarded by Thais to be as indispensable as rice.

Nam Prik Goong Siab
Similar to the above but featuring whole, dried shrimps and eaten with various vegetables as an appetizer. Among the spiciest dishes in Thailand. Most restaurants that prepare food according to order - as opposed to little shops serving only a set menu - make nam prik goong siab.
Tao Sor
or Kanohm Bia Phuket Spring rolls, Chinese crepes.
Oh Aew
An iced sweet made of flour, banana, and a little seaweed.
Other foods held to be characteristic of Phuket include cashew nuts, which are planted along many of Phuket's highways, and pineapples - though to be crisper and sweeter than elsewhere .
Cashew nuts
try at:
- Maeti on Tilok Utit 2 Rd.
- Sri Boorapa Orchid on Takua Tung Rd. and Kwang Ban Teen Kao Rd.
- Sri Supalak Orchid on Thepkrasattri Rd.
Pineapples
can be purchased in the Fresh Market, and are found generally.