you are here:

home

About Us

Phuket Today is a leading local business directory and search service, providing the most up-to-date information on businesses located in and around Phuket Island and southern Thailand. Phuket Today is a subsidiary of Express Data Co., Ltd., the franchise holder on Phuket Island for Internet KSC, the first commercial Internet Provider in Thailand since 1994.

Phuket Today's primary objective is to promote business located in Phuket Island while supplying users the information on businesses to lifestyle.
Phuket Today's Website contains:
• General Information about Phuket
• Daily Weather report
• Visitor guides other helpful information
• Local News
• Entertainment Update
• Directory of Local Business
• Search Hotel
Advertise with us?

Million of million websites has registered on the Internet these days. Unless they know your exactly web address, they will never find your site. So, let's make a change for other people reach your website by us.

As a directory for Phuket business and surrounding areas, here are some benefit in advertising your site banner with Phuket Today.
Phuket Today has its own direct advertising with Google
• Sales opportunity on the Internet.
• Eliminate unnecessary expenses such as administrative cost, staffing, printing, reconnecting, and stock.
• Full color display
• 24 hour sales opportunity and ability to quickly update information.
• Corporate image of advanced technology.
• Direct marketing on the Internet.
Our facts
• More than 6,500 monthly unique visitors
• Over 40,000 monthly pageviews
• Over 140,000 monthly hits
• High ranking on major search engines
• Power search by Googles
• More than 250 links with websites of business in Phuket
Monthly Visitors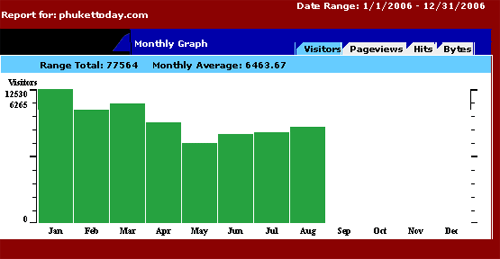 Monthly Page views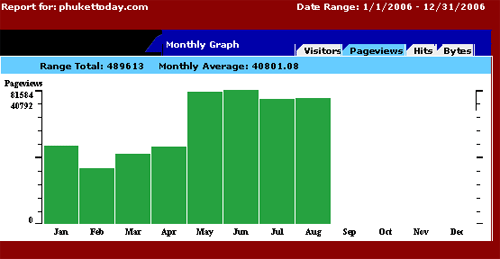 Monthly Hits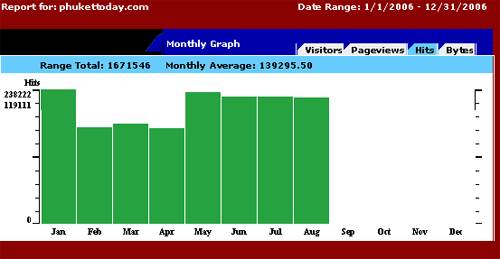 Search Engines